House Calls Dentistry in San Jose, CA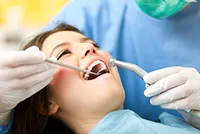 Remember the good old days when doctors and dentists used to make house calls? You may be surprised to hear that Nidhi Sikka, DDS of Sikka Dental still offers house call dentistry, a practice very few San Jose dentists offer anymore! If a transportation or health issue is preventing you from receiving quality dental care, call Nidhi Sikka for house call dentistry and get the quality dental care you need right in your own home!
Why Would Someone Need House Call Dentistry?
While most patients do visit Nidhi Sikka, DDS at Sikka Dental, there are several valid reasons why house call dentistry may be more appropriate for some San Jose dental patients. For example, patients with Dementia, Alzheimer's, severe anxiety and those who are wheelchair bound are just a few of the people who could potentially benefit from house call dentistry. There are no age or income restrictions on this service. If you require at-home dental care in San Jose for any reason, Nidhi Sikki is happy to assist.
Nidhi Sikka is one of the very few dentists in San Jose still willing to make house calls. If you feel you would be a good candidate for house call dentistry and want to learn more, call Sikka Dental today!
What Services Can Nidhi Sikka Provide with House Call Dentistry?
Exams, x-rays and moderate preventative care are the three most common house call dentistry services that Nidhi Sikka provides. While patients with more severe, extensive or complicated dental needs may need to be seen in an office or hospital setting, patients with generally good oral health may be able to receive the quality dental care and consultations they need right from their own home, if needed.
With over 30 years of experience providing quality dentistry in San Jose, Nidhi Sikka, DDS and all of us at Sikka Dental have the skills and experience you need to make your next dental visit a great one. Whether you need a regular in-office dental appointment or you feel you would be better served by house call dentistry, give us a call today! Your comfort and health are our priority, and we will work with you to get you the quality dental care you deserve.
For more information about our house calls dentist, call our dedicated In Home Dental phone line at: 1-888-45-TOOTH (1-888-458-6684) Or visit www.SpecialCareSmiles.com